October 2014
Happy Fall Dear Readers!!
As you can see by the photo, I'm already celebrating the changing of the seasons. Wine anyone? Oh wait, that's apple cider :o) Maybe….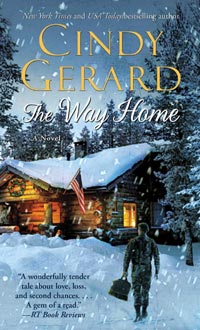 I don't know about you but I can hardly believe that summer has come and gone, the leaves are turning, and winter isn't far away. What I love most about this time of year are the cool evenings snuggled up in front of a fire with a cat on my lap and a good book in my hand – whether it's a 'book' book or an e-book. For that reason I'm happy to tell you that The Way Home will be released for the first time in mass market paperback on October 28th. I love that this book is now available in yet another format for you to enjoy.
BUY FROM: Amazon.com | B&N.com | S&S.com | BAM.com | IndieBound.com | iBooks | Kindle | Nook
Here are just a few of the 5 star reviews The Way Home received on Amazon.
"What an amazing story! I loved every second…The book had everything....the idyllic setting of the MN lake region…the high drama, high-action of Afghanistan, and everything in between …two gorgeous love stories." A+ 5 star review by Smitten with Reading Amazon top 1000 reviewer
"This is the first book in a long time that I wanted to slowly savor and not let it end. Just read it and read everything Cindy Gerard has written. She is just that good." 5 star review by Amazon Reader 123
"What can I say? This book simply took my breath away! Five stars is too few…As always Cindy Gerard creates characters you will fall in love with and leaving you wanting more--can't wait for the next installment of The One-Eyed Jack Series!!!" 5 star review by Cindy McDonald, Amazon reviewer.
Some of you may remember Sally Fields' speech upon winning her Oscar for Norma Jean: "They like me. They really like me!" In this case, regarding The Way Home, it would seem that, "They like it. They really like it!" :o) I hope you can run out and get your copy right away!
In other news, I've recently published two Black Ops, Inc. short stories as e-reads. Both stories are also available as a part of multi-author anthologies but now you can by my stories on the cheap :o) as individual reads. Want to know what Johnny Reed and Crystal (from Whisper No Lies) have been up to? Then check out Dying To Score, a high octane, high drama and hot romance that will have you on the edge of your seats!

BUY FROM AMAZON
Wondering about Luke – Doc Holiday – Colter and Val (from With No Remorse)? SEALed With A Kiss takes you with them on their honeymoon that turns into a race against time and certain death in this tense and sexy thriller.

BUY FROM AMAZON
As for future releases, watch for Running Blind, the suspenseful and sexy 3rd book in the One-Eyed Jacks series featuring bad boy Jamie – Hondo – Cooper. Double Yum Yum – which actually makes a quartet of Yums. :o). Running Blind will be released the end of February just in time for spring!

BUY FROM AMAZON
Have a wonderful and healthy winter, everyone. And as always thank you for being such supportive fans and readers. It means everything!

All my best,
Cindy