special Features
Update: may 2007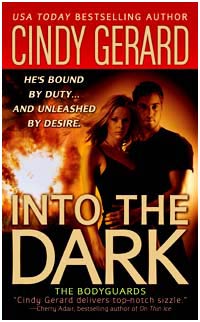 It's Spring! Make that summer. At least it feels like summer here today. And it's heaven! There's never a better time than summer to find a sunny or a shady spot (hey – it's your down time, you get to choose), a comfy chair and dig into a good book. We are all so fortunate that there are so many great selections for us to choose from.
I'm delighted to be adding to the mix! Book 6 of my Bodyguard series, INTO THE DARK, is coming out MAY 29TH to a book store near you. INTO THE DARK features the last Garrett brother, Dallas, and Amy Walker (who you all met in TO THE BRINK). I know, I know. You're upset with me because I've taken so long to get to Dallas and Amy's story. The truth is, Amy needed some time to heal and I needed some time to make certain that INTO THE DARK was the perfect story for the two of them. I'm feeling pretty good about it – I hope you'll feel that way too.
Dallas and Amy's story takes place in both the States and in steamy, sultry Argentina where they race against danger and time to expose a dark and heinous secret that threatens to destroy them both. Their story is intense, yet sometimes funny, hot and sexy and the action and adventure are nonstop. Check out my website or myspace for a book trailer that will give you an idea of the action.
And if the trailer isn't enough to whet your appetite here are a few examples of what other authors and reviewers are saying about INTO THE DARK:
"I'm blown away ... (Cindy Gerard is) an absolute standout in the genre!" JoAnn Ross, New York Times Bestselling author

"Fast-paced, thrilling and sexy, INTO THE DARK is Cindy Gerard at her best. I loved it!" Carla Neggers, New York Times Best-selling author

"Gerard's books are sexy and irresistible. You won't be able to stop turning the pages." Kat Martin, New York Times best selling author.

"From its inception, Gerard's Bodyguard series has been a thrilling ride into danger and high-risk adventures. Fans won't be disappointed by the way she explores Amy and Dallas' relationship in the sizzling series conclusion (INTO THE DARK). The thrill and chill factor in this book is off the charts!" 4.5 stars, Top Pick HHHHH HOT Romantic Times Book reviews, Jill M. Smith

"Saving what may be the best for last, Cindy Gerard wraps up her Bodyguards series with Dallas and Amy's story. INTO THE DARK is a fast-paced, emotional, adventurous story with more twists, turns and surprises than really should be allowed. Cindy Gerard assures her place as one of my personal favorites with this dramatic, and satisfying, conclusion to her series (with hints of a new series to come)." Writers Unlimited, Angela Keck

"..(INTO THE DARK) ..is the sixth book in Cindy Gerard's Bodyguard series and it's as fabulous and racy as the first five. The characters have you laughing out loud while cheering them on. I hope Ms. Gerard follows through with her letter at the end of the book and branches out with the characters we've met, but have not had the chance to know yet. I'm already looking forward to it." Fresh Fiction, Mandy Burns
---
Update: November 27, 2006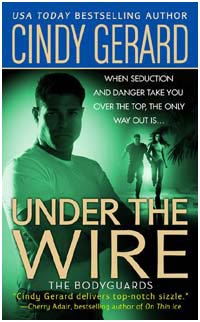 Yes, it's hard to believe but the season is upon us, a time for family gatherings, holiday decorations, overeating and the spirit of giving!! My hope is that you enjoy your holidays and as always have plenty of good books to read.

Which brings me to the reason I'm writing. Book 5 of my Bodyguard series, UNDER THE WIRE, is coming out November 28th just in time to help you celebrate. UNDER THE WIRE features Manolo Ortega -- you met him in TO THE BRINK -- and Lily Campora. Manny -- a former SF soldier who served along side Ethan Garrett in South America – joins E.D.E.N. Inc. after a career crisis and runs into a Lily, a woman from his past who betrayed him but who now needs not only his help but his protection as they slip under the wire to beat the clock to save their very lives.

This was one fun book to write as this steamy couple's story takes them from war torn Nicaragua in the 1980's to present day Sri Lanka, a beautiful, exotic country caught in the midst of a violent political upheaval. It's fast, it's sexy and the action and adventure are nonstop. But you don't have to take my word for it. Here are a few examples of what the critics are saying about UNDER THE WIRE:
UNDER THE WIRE REVIEWS
"Exploding with intensity from the opening pages, UNDER THE WIRE grabs a reader's attention and holds on tight. ... realistic, gritty and downright chilling. Ms. Gerard just keeps getting better and better. She also gives readers what they want--fast-paced, energy-charged, intriguing stories and hunky, larger-than-life heroes."

-- Debbie Jett, Romance Reader at Heart

"With every book Cindy Gerard just gets better…UNDER THE WIRE is … a sizzler in more ways than one. This is romantic suspense at its best so don't miss UNDER THE WIRE for Lily and Manny's love story and reconnect with the fabulous E.D.E.N. group once again for another rollercoaster ride of excitement."

--Suzanne Coleburn, Reader To Reader Reviews

"What an intoxicating read!! This (UNDER THE WIRE) is the fifth book in Cindy Gerard's Bodyguard series; it's amazing how they each get better and more fascinating as the scope of the characters grows. UNDER THE WIRE is witty, smart and captivating, and I can't wait for the next Bodyguard installment."

--Mandy Burns, FRESH FICTION

"Manny and Lily's story is intense, believable and, at times, poignant. This (UNDER THE WIRE) is another outstanding entry in a series that just keeps getting better."

--Jill M. Smith, Romantic Times Book Reviews
---
Update: May 23, 2006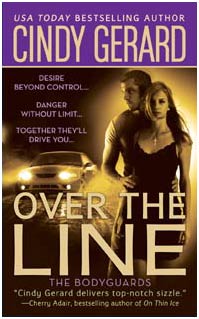 It's that time again. OVER THE LINE, another Bodyguard book, is about to be released and for me it's a real cause for celebration. When I first proposed the Bodyguard series, it was for a total of 3 books – and my greatest hope was that I'd sell at least one of them. When St Martins Press bought all 3, I was over the moon. And then, when they wanted 3 more in the series I went way past the moon an on to Venus :o)
Book 4, OVER THE LINE, (at your favorite bookstore May 30th) is a very special book for me. Jason 'Plowboy' Wilson is a character I fell in love with when I wrote TO THE EDGE and Nolan Garrett had to haul the Ranger's sorry butt out of a biker bar. Jase has since DQ'd out of Ranger Battalion and was floundering around in his civilian life – until No hires him at E.D.E.N., Inc. and Jase gets his first assignment as bodyguard to the wild and willful Sweet Baby Jane Perkins on her sold out U.S. concert tour.
These two end up in more trouble than I could possibly mention in this short post but suffice it to say, I had a blast writing their story. COSMO loved it too because, like TO THE EDGE, COSMO is featuring OVER THE LINE as one of their Red Hot Reads. I feel so honored to have 2 of my books selected for the ultra-hip magazine. Check back later and I'll have a link up to the article. In the meantime, watch your news stands for the August Cosmo issue that will be available mid-July.
You can also purchase OVER THE LINE at www.Amazon.com or www.Barnesandnoble.com OR buy from Doubleday, Rhapsody and Mystery Guild Books clubs and receive a hardcover edition (Edge, Limit and Brink are also still available in hardcover).
Okay that said – here are some early reviews for OVER THE LINE:
OVER THE LINE REVIEWS
"Like her three prior books in this series, Gerard's OVER THE LINE stands on its own as a fast-paced thriller of action, adventure and romance. This is a fantastic book in which to quickly escape the day-to-day routine because of the many twists and turns awaiting the characters."

-- Freshfiction.com, Vicky Gilpin, Reviewer

"Cindy Gerard has a definite winner on her hands with OVER THE LINE, the latest in The Bodyguards series. Intrigue, suspense, chemistry and good old fashioned romance all combine to keep the pages turning and the reader hooked from page one. If you're looking for a book to tuck in that summer beach bag, this one should be at the top of your list."

-- Angela Keck, Reviewer, Writer's Unlimited

"A great plot with plenty of red herrings and twists makes this ideal reading for romantic suspense fans. Protagonists who are both sympathetic and layered elevate the intriguing plot of this fourth chapter in the Bodyguard series. Gerard just gets better and better with every new book."

-- 4 ½ Top Pick, Jill Smith, Romantic Times

"The fourth E.D.E.N bodyguard thriller may be the best tale in what is one of the superior series on the market in the last few years. The lead couple consists of two deep complex protagonists while the suspense is top rate and filled with twists and turns. Romantic suspense fans will want to read this strong one sitting tale."

-- Harriet Klausner on B&N.com
---
Update: January 2006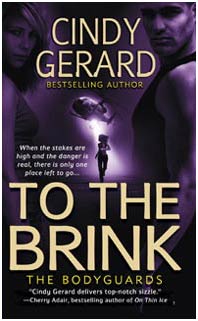 Here we go again. I'm so excited that TO THE BRINK, Book 3 in my Bodyguard Series is available as of December 27 – not in time for Christmas but still, a great holiday buy! (you can also preorder TO THE BRINK at www.Amazon.com or www.Barnesandnoble.com) OR buy from Rhapsody and Mystery Guild Books clubs and receive a hard cover edition of Limit (EDGE and LIMIT are also still available).
Ethan and Darcy took me on quite an adventure – from Lima, Peru, to Tel Aviv, to the jungles of Jolo Island in the Philippines and on to Washington, D.C. This action adventure romance was an amazing journey for me as a writer and I so hope you enjoy their story.
Here are some advanced reviews for a little glimpse of what people are saying about TO THE BRINK:
TO THE BRINK REVIEWS
"Immediately drawn into the tale, I was unable to put the book down. To The Brink left me begging for more from The Bodyguards. I can't wait for the next installment!"

-- joyfullyreviewed.com

"Characters are extremely well drawn and the secondary characters for the most part profit from having been around in other books. Even if this is the first Gerard book you have read, you are left with the feeling that they are old friends - a unique talent of the writer. First time readers will no doubt start seeking Gerard's prior books in the Bodyguard series, which in reality is one of the greatest tributes to an author. This one is strongly recommended."

--Thea Davis, TheRomancereader.com

"To the Brink grabs your attention and doesn't let go. Cindy's got another keeper! Enjoy!"

-- Aromancereview.com

"This book is truly "edge of the seat" reading and once you start it, you will not want to put it down for anything. … each book in this series gets better and better. This reviewer hopes that the author continues this series and I guarantee that it will be on my auto-buy list. If you love intense suspense, heart-warming love and an exciting family, this series is definitely for you."

-- Romancejunkies.com, Gloria Trout

---
Update July 25, 2005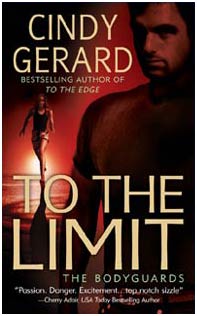 It's hard to believe that it's almost time for the release of TO THE LIMIT, the second book in my Bodyguard Series. TO THE LIMIT will be on sale in stores 8-30-05, so mark your calendars! (you can also preorder TO THE LIMIT at www.Amazon.com or www.Barnesandnoble.com) OR buy from Rhapsody and Mystery Guild Books clubs and receive a hard cover edition of Limit (Edge is also still available).

Don't forget, TO THE LIMIT will be featured in this year's AUTHORS AT SEA cruise. If you haven't already discovered how you can cruise with me and many of your favorite authors AND get mega $$$'s off the price of the cruise, click here for details. It's going to be too much fun!

While you're here, I'd love for you to read some early reviews for TO THE LIMIT:
TO THE LIMIT reviews
… suspense sizzles on every page. The action starts immediately … from the moment Eve answers the call for help … and misfortune seems to hone its sites on her. …Gerard has done an excellent job capturing the same blend of action and lust that powered her first book in this series, TO THE EDGE. Though reading the books in order is a plus, this is one tale that can stand on its own. The characters are riveting, the action fast-paced, and the storyline superbly created.

-- Freshfiction.com, Vicky Gilpin, Reviewer

"hot diggity dog".… TO THE LIMIT is incredible. I had high hopes Ms. Gerard would achieve the same quality of excellence in TO THE LIMIT as she created in TO THE EDGE, the first of her Bodyguards series. She did.

TO THE LIMIT is edgy, exciting, and oh-so-sexy with two fabulous lead characters and a cleverly done mystery. This story doesn't just sizzle, it blazes. …wickedly devilish Tyler "Mac" McClain… ex-cop turned PI, fairly drips testosterone, but smart, sassy "twinkie" Eve Garrett is more than a match for the macho Mac. These two well-sketched characters share a passionate chemistry that is nothing less than fiery. Ms. Gerard sets a fast pace early in the story and never lets up. … non-stop action and non-stop sexual tension.

I can't say enough good things about TO THE LIMIT. This action packed thriller is loaded. Add two tempting lead characters, some great dialogue, gobs of humor together with a well-done mystery and I wouldn't hesitate to recommend TO THE LIMIT to romantic suspense devotees.

-- ROMANCEREADERATHEART, Debbie Jett reviewer

"Rising star author, Cindy Gerard will continue to amaze with her romantic suspense TO THE LIMIT for St. Martin's (Sept. 2005). This is Book #2 in her bestselling The Bodyguards series about four Garrett siblings: Eve, Dallas, Ethan and Nolan, who have formed the E.D.E.N. protection agency. Watch the fireworks as this dynamic duo…Eve Garrett and P.I. Mac McClain… battle car bombs, gun shots and their attraction for each other which makes for an explosive, action-packed novel that stretches TO THE LIMIT of romantic suspense!

-- Patricia Rouse, Rouse's Romance Readers Groups

Book two in Gerard's hot Bodyguards series crackles with sexual tension, dark drama and thrills. The baggage between Eve and Mac is enormous, so overcoming it is suitably challenging. Gerard is quickly proving that she's a player in the romantic suspense genre.
(4 1/2 stars)

-- Romantic Times

In the second book of "The Bodyguards" series, Cindy Gerard gives her readers … another action-packed, passion-filled, can't-stop-til-you've-finished story. Eve is every man's dream girl and Mac is sex on a stick. The characters are relatable and believable and the plot is filled with intrigue that keeps you guessing right up 'til the end.

…red-hot attraction crackles and sparks between them like high-voltage wires. The sexual tension pushes them to their limit as they chase their prey and then become the prey … terrific plotline, plenty of action and oozes with sensuality. It comes highly recommended as a great end-of-summer read. And this reviewer can't wait for brother Ethan's story next year in TO THE BRINK.

-- WRITERSUNLIMITED.COM, Marilyn Puett

A super action-packed investigative thriller
The second bodyguard romance (see TO THE EDGE) is a super action-packed investigative thriller starring two capable individuals who have a history that they must overcome if they are to locate and perhaps rescue the missing teen let alone find a future together. Love is not the issue between them nor is attraction and desire. Instead the two obstinate heroes take each TO THE LIMIT as they battle one another for the top position...............

--THEBESTREVIEWS.COM, Harriet Klausner
---
March 20, 2005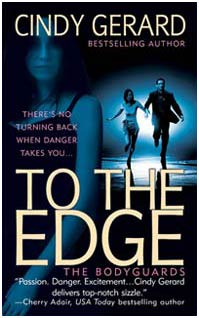 I'm delighted to share with you that TO THE EDGE will be a featured read in Cosmopolitan magazine! The book excerpt will appear the June 2005 issue of COSMO which will be on the stands from May 10 – June 10, 2005. Click here to view the Cosmopolitan article.
Early reviews are starting to come in on TO THE EDGE which should be on sale in stores on May 3rd, 2005. (You can also preorder now at www.Amazon.com or www.Barnesandnoble.com)
Take a look and see what people are saying. Click on each link for the complete review.
TO THE edge reviews
10 stars ~ TO THE EDGE is a fantastic romantic suspense … The relationship between the two stars is a delight. The stalker is handled deftly… a fine opening gamut in the Garrett siblings' saga.......

-- Harriet Klausner

M.R. Ormsbee (ormsbee@sbcglobal.net),
an avid mystery reader

Riveting. I love a book that keeps you on your toes and this one does. The title (TO THE EDGE) is perfect. Can't wait for the next book.

Four Stars ~ An award-winning series author, Gerard expertly makes the transition to single-title fiction. Edgy and intense, this tale of romance, danger and past regrets is a keeper. Readers will look forward to her next Bodyguards offering.

-- Jill Smith
… great plotline with superior characters and a detailed backstory.

-- Vicky Gilpin, Reviewer
....The success of this book doesn't need any reviews -- it's written in the pages! Not only is the mystery and tension from the stalker an edge of your seat thriller but Jillian and Nolan's relationship deserves accolades as well. Cindy Gerard's TO THE EDGE proves she's not lifting the bar, she's already above it!...

Patricia Rouse, Rouse's Romance Readers Groups
Cindy Gerard makes her superb mainstream debut...From first encounter to last, sparks not only fly they sizzle between this dynamite couple! TO THE EDGE is a fantastic beginning to what promises to be a best selling romantic adventure series! Don't miss a single book!

Marty, in the field., March 23, 2005
Top notch!

To The Edge is one of the best books I've ever read! The characters come alive in the book and every scene is imaginative and believable … Romance, Intrigue, Suspense around every corner.
To The Edge was a riveting and exiting read. Fast paced and action packed, the story takes flight and doesn't land until the last page. This reader can't wait until the next book, To The Limit, featuring Nolan's sister, Eve, comes out!

Reviewed by: Susan T
Reviews for Cindy's Other Novels:
STORM OF SEDUCTION: Readers have come to understand that a book by Cindy Gerard will deliver a great plot, sensuality and emotion, three-dimensional characters and a satisfying ending wrapped up in a book that will keep you glued to your chair. Storm of Seduction is no exception and should definitely be on your list of "must read" books.

-- Marilyn Puett, Writers Unlimited

BREATHLESS FOR THE BACHELOR is full of fun and passion in the style that Ms. Gerard is so famous for. And if you're a fan of Cindy Gerard, this is one to add to your reading list. I guarantee that you won't be disappointed.
-- Marilyn Puett, Writers Unlimited
TEMPTING THE TYCOON is a "must read" book for romance connoisseurs … brilliantly written and shows readers why Ms. Gerard won the RITA. She skillfully combines sultry sensuality and rib-tickling humor to create a definite one-sitting read.

-- Marilyn Puett, Writers Unlimited
Emotionally charged and sensual, Cindy Gerard's THE BLUEWATER AFFAIR) provides another tantalizing piece of the intriguing Family Secrets puzzle.

-- Romantic Times
TAMING THE OUTLAW is one of the best books I have read this year ... a true keeper. Cutter is a hero to die for. Ms. Gerard's writing is fresh and new and a delight to read. This is the first book by this author I have read and one that puts her my on auto-buy list -- I am pleased to award TAMING THE OUTLAW a well-deserved Perfect 10.

-- Romance Reviews Today
4 1/2 Hearts: TAMING THE OUTLAW is a simmering, sensual, and emotional gem Ms. Gerard heads the top of my list of favorite category authors!

-- The Romance Reader's Connection
Filled with rich emotional nuance, complicated family relationships, and complexities of the heart, THE SECRET BABY BOND comes very highly recommended." Compelling -- Very highly recommended

-- Cindy Penn, Senior Editor, WordWeaving.com
….…THE BRIDAL ARRANGEMENT is pure magic !!! I challenge you to read this book and not become a better person for it ... and to not believe that it is one of the most magical books you have ever enjoyed."

(5 stars)
-- Amazon.com Customer Review
THE BRIDAL ARRANGEMENT. An unforgettable romance by an exceptionally talented author! Cindy Gerard, storyteller extraordinaire, delivers all of this and much more. Don't miss it! Perfect "10"

-- Romance Reviews Today
LONE STAR KNIGHT Cindy Gerard's latest is a heartwarming tale with an outstanding love story, fantastic character development and an intense storyline. (4 1/2 Top Pick & - W.I.S.H. Award)

-- Romantic Times
IN HIS LOVING ARMS is packed with sizzling sensuality and scenes tender enough to make you teary-eyed. Ms. Gerard proves once again that she's a master at weaving tales that shoot straight for the heart - and she definitely does it with incomparable style. Don't miss it. It's another keeper.

-- Heart Rate Reviews
THE OUTLAW JESSE JAMES - Brimming with endearing characters and heart-stopping romance…a special magic. With superb narration and a skill for writing poignant heart-wrenching scenes, Ms. Gerard will definitely have readers falling in love with the rodeo and the hero … a book that belongs on your keeper shelf. Simply a must read!

-- Heartbeat Award Heart Rate Reviews

MARRIAGE OUTLAW STYLE Ms. Gerard stirs up utterly delicious chemistry Great fun, indeed!
(4 ½) Best Desire Nominee
-- Romantic Times
THE OUTLAW'S WIFE - Wow. Let me say that again. Wow! Go and get this book. It will take you on such a real, rich, emotionally intense ride that you may need a few days to recover...vivid, poetic descriptions, straightforward narrative style...heart-healing tenderness, gentle humor, and effective sexual tension...a hands-down winner.

5 Hearts
-- The Romance Reader
THE OUTLAW'S WIFE is a tour de force in category romance writing. A complex, intense and sensual feast of a read. Definitely one for the keeper shelf!

(5) -- Bookbug on the Web