August, 2012
Hi everyone!
I LOVE a deal. About the only thing I love MORE than a deal, is passing on a great deal to my loyal readers. And boy, do I have a bargain for you.

On August 7 – in the midst of this long, hot summer - my publisher is making 2 of my classic romance novels available in 1 e-book volume. That's right. A BoGo!! Buy one, get one free – they just happen to be packaged in one gorgeous volume.

Download WORTH DYING FOR on your e-reader of choice and you receive 2 complete books for a whopping $6.99.
WORTH DYING FOR includes my National Reader's Choice Award winning Into the Night and Man Around the House – a RITA Award Finalist book and winner of the Colorado Romance Writers Award of Excellence!
INTO THE NIGHT
….It began as a gimmick to promote their new radio show, but the spirited sparring between Jessie Fox and Tony Falcone soon has listeners demanding to know more about their steamy romance – and sets loose a crazed stalker. Jessie swears that the fire burning in Tony's eyes can't be real—until he sets a seductive trap she can't escape. Can Tony persuade Jess he's never letting her go?
MAN AROUND THE HOUSE
….Answering his neighbor's cry for help, Matthew Spencer finds himself rescuing a sassy blue-eyed temptress. Katie McDonald is a walking disaster who falls off ladders into his arms and awakens his hunger with the speed of a summer storm, and her infectious spirit has him rediscovering the joy in life.
Matthew makes her feel too much, want more than she can have, and dare to dream of being loved, but Katie knows she's all wrong for a man with a child. Despite the passion between them, Matthew needs someone nice and normal, not wild and reckless – and Katie's passion for her work has placed her in grave danger. And once Matthew learns her deeply buried sorrow, can he love her for all time?
I love that these two stories are available again and I hope you love them too.
And as long as we're 'talking'

watch for KILLING TIME, book one of my new One Eyed Jacks series, due out the end of January 2013.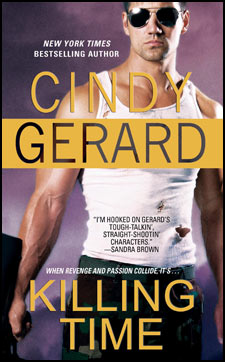 To keep up with all my projects visit my webpage and my FaceBook and if you haven't already, LIKE me. I'm a very needy person. If you're in a really social mood, please share this letter with your FB and Twitter buddies to help spread the word about WORTH DYING FOR.


Hugs and more hugs, Cindy