February 2016
Déjà Vu all over again?
Yep. It's February which means winter and snow and cold and wavering New Year resolutions – just like last year. It also means some of those Christmas gifts you received have long since been exchanged for the right size, or something else altogether, OR in my case, the gift has grown! No, not a plant. :o) A puppy. Whoot!
Meet Tater, our darling little cavapoo, who immediately stole our hearts. I mean – who wouldn't love this guy. Even Margaret, our Brittany, has succumbed to his charm. Sly, the black cat – well – he's no pushover but he's slowly warming up. And Buddy – you can almost feel the kitty love:o)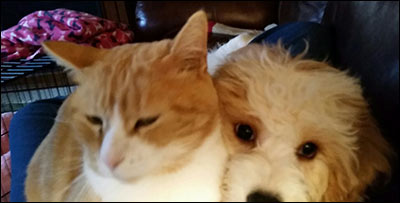 Speaking of warming up and Déjà Vu, February also means a new installment of the One-Eyed Jacks series! Book 4 – TAKING FIRE is already available on line for pre-order but will be released for real on February 23rd. Yippee!!!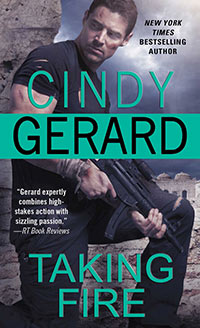 We are loving the reviews!
"Romantic suspense veteran Gerard is at the top of her game with a determined yet vulnerable heroine and a hero with 'a battle-hardened look and clear air of danger,' whose sizzling attraction burns up the page from their first interaction. Their gripping story (Taking Fire) will make readers seek out Gerard's other titles."
Publisher's Weekly
"As always, Gerard excels at combining action and hard-edged danger with passionate romance – a perfect blend." Romantic Times on Taking Fire
"This (TAKING FIRE) was my first Gerard book and I couldn't put it down. It was filled with nonstop suspense and surprises at every turn. After reading this I definitely want to start this series from the beginning and enjoy the ride Gerard takes me on. A pre order must for 2016!!" Top Pick for 2016 Lush Book Reviews.
So – yea! We're off to a good start. Hope you get your own copy of TAKING FIRE soon and I'd love to know how you like it :o)
Just to entice you a little more, here's a hint of the chemistry between these two when then first meet:
His name was ...Robert Andrew Taggart. Known to his co-workers as Bobby or Boom Boom. It was the boom she had to remember to be careful of. He'd been Special Forces, but a mission had gone south a few years ago and he and two of his fellow team members got tagged for the screw up. All three were given less than honorable discharges. Bitter and with no place to go, he'd signed on for military contract work and ended up back in Afghanistan.
It was his military history and his fall from grace that might work for her. That and something as inherently basic as the difference in their chromosomes. She needed information. He had it. She'd do whatever she had to do to get it.
"Talia Levine." She extended her hand.
His palm was warm and rough and she held on long enough so he'd understand she had something more in mind than drinking together.
"You're American, right?"
Another engaging grin. "What gave it away?"
She pushed out a flirty laugh. "Only everything about you."
"Yeah, I need to work on that." He leaned a little closer. "What about you? Can't place the accent."
"I was hoping I didn't have one." She smiled again. "I'm from D.C., actually. But of late, Israel, London, Baghdad … anywhere my assignments take me. War correspondent," she clarified, when he cocked a brow. It wasn't a lie, but it wasn't what had brought her to Kabul. He was.
"Of course. Why else would a beautiful woman spend time in a sweatbox like this unless she was forced to?"
"Not forced," she corrected. "I volunteered for this assignment."
He sipped his whiskey, studying her face in a way that made her feel like a mouse in a trap when she was supposed to be doing the trapping.
"So you're one of those."
She crinkled her brow. "One of those?"
"An 'all for the sake of her career' woman. Always ready to take reckless chances to get your story."
"Now how would you know if I was reckless?"
"Not to point out the obvious, but you're in Kabul in the middle of a war zone. And you're coming on to a stranger in a bar."
"Wow." She feigned insult. "That's harsh."
"That's life," he said with a shrug. "No insult intended. Maybe a little wishful thinking, though. You were coming on to me, right?"
She sipped her wine, aware of his gaze on her face. "I was still deciding."
Here are some of the places where you can buy TAKING FIRE:
BUY FROM: Simon and Schuster | Amazon.com | B&N.com | BAM.com | IndieBound.com | iBooks | Kindle | Nook | Google Play
Don't forget your chain and local indy brick and mortar stores when you're looking for TAKING FIRE and all of your favorite books and authors.
Hugs to everyone and think spring!
All my best,
Cindy