February 2015
Had enough of winter yet???
If you're from the West, the Midwest, the East Coast or somewhere in between, I'm betting the answer is a resounding yes. Even our friends in the South have had their share of nasty winter weather as well as several places around the world. As I write this letter, it's midday, the snow is deep on the ground, the wind is howling, and the temperature is still hovering around 0 Fahrenheit. Yikes. Makes me appreciate working from home – especially because I know what it's like to commute to work in this weather – did it for years. My blessings to you all who are braving the elements. In the meantime, I haven't seen my big 'pussy' cat, Buddy, rouse himself from his basket in front of the fire in hours and right now his brother, Sly, is right there with him. Ever see cats spooning? :o)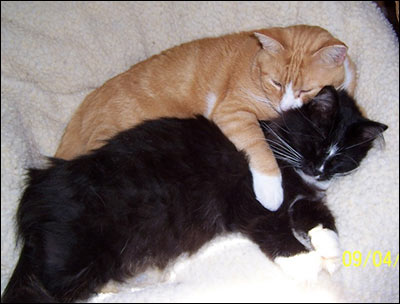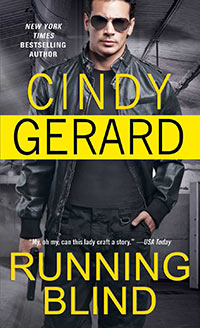 Here's the good news amid all of this bad weather. I've got just the thing – or the couple - to turn up the heat and warm you up until your toes curl :o). It's so exciting to see Jamie – Hondo - Cooper and Rhonda – Bombshell- Burns (Last Man Standing) come to life on the pages of RUNNING BLIND, my 3rd One-Eyed Jacks romantic suspense novel.
No Commitments, No promises, No looking back. Those are her rules. They used to be his rules too.
"When Cindy Gerard writes a romantic suspense novel, a perfect blending of death-defying threats with a compelling love story is guaranteed."
5 Stars. Single Titles
"Running Blind slayed me, it was that good! Nail biting plot and tons of action and romance."
RomanceAtRandom, by Michelle
Writing this book proved to be a thrill a minute. Between Coop making his moves and the Bombshell showing that's she's got a few moves of her own, I could hardly keep up with these two. And as you can see by this little excerpt, they had a heck of a time dealing with each other.
…The only thing Rhonda knew for certain was that she'd been smart to lay ground rules last night and put a stop to their 'thing' this morning. They both agreed that anything more than a fling would jeopardize their professional code. On top of that, it was becoming increasingly clear that if she didn't end it swiftly and cleanly, she'd have a hard time ending it at all. Long term wasn't on her agenda, and it sure wasn't on Cooper's.
Yup. She smoothed on body lotion, then slipped into a fresh blue nightie and dried her hair. She was right to have called a halt this morning. So she really had no answer for why she lifted her key card from the credenza, tiptoed barefoot across the hall, and rapped on his door….
So much for staying away from that bad boy. :o)
Here's where you can get RUNNING BLIND
BUY FROM: Amazon.com | B&N.com | S&S.com | BAM.com | IndieBound.com | iBooks | Kindle | Nook
Don't forget your local chain and independent brick and mortar stores when you're looking for your favorite books. And if you like RUNNING BLIND – spread the word :o) I'll be forever grateful.
Okay, it's back to work for me on Bobby – Boom Boom – Taggart's book, TAKING FIRE. Talk about a hot couple. I can't wait to see how this one ends. Oh, wait. I'm supposed to know that already, right? Don't tell anybody, but I don't have a clue, and that's what's making TAKING FIRE so much fun to write.
Stay warm. Be careful and as always thank you all for being such supportive fans and readers. It means everything!

All my best,
Cindy