March 2014
Hi everyone!
I'm back with some good news and a great deal.
First, I know that most of you associate my name with my New York Times best-selling action adventure romantic suspense novels. Before I started writing the Body Guards, Black Ops, Inc, and the One-Eyed Jacks series, however, I wrote a number of contemporary romances, some of them for Bantam Books' much loved Loveswept line.
I loved writing those books and have missed seeing them in print. The fact is, for the past several years, these books have not been available in any format. That's why I'm so happy to offer 3 of these full length classic romance novels to you now as e-books.
It was so much fun re-acquainting myself with these couples and their stories. I hope you enjoy CHARADE (original title: Perfect Double), RENEGADE (original title: Maverick) and DREAM LOVER (original title: Dream Tide) as much as I've enjoyed bringing them to you. Each book is available now for the low, low price of $3.99! Told you I had a good deal.
For now, the e-books are only available at Amazon.com but, you'll be able to buy them for any of your favorite e-readers in 3 or 4 days. Just keep checking :o)
In other news, if you don't have KILLING TIME yet, don't miss it in any format: Paperback, e-book and now, audio. Yea! So for those of you who have been asking – yes, my dears, you can now listen to Mike – Primetime – Brown's story.
"From the intensely captivating opening scene to the last tender moment, Gerard takes the reader on an emotionally complex yet action-packed roller-coaster ride of romance and conflict, capitalizing on both sexual and situational tension. Mike and Eva leap off the page as smart, resourceful yet damaged characters who find solace and sanctuary in each other and their shared journey toward truth and redemption. Gerard hits the mark with this addition to her unique and successful brand of special-ops romantic suspense." Kirkus Reviews
Buy the Audio | Buy for the Paperback and Kindle | Buy at B&N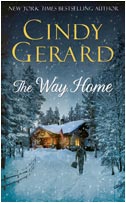 Additionally, many of you have also been asking when THE WAY HOME will be available in paperback. I'm happy to tell you that you'll be able to purchase the mass market paperback edition this coming fall! But don't worry. I'll send out a reminder so you'll know when to start looking for it. For those of you who have already bought and read the book, thank you so much for the support and the amazing praise this book has been getting. I'm thrilled readers are loving the book as much as I loved writing it.
BUY FROM: Amazon.com | B&N.com

"THE WAY HOME … Smart, romantic, exciting, and so emotionally satisfying. I hugged myself for hours after reading it." Robyn Carr, #1 NYT bestselling author

To keep up with all my projects visit my webpage and my FaceBook and if you haven't already, LIKE me. I'm a very needy person. :o) If you're in a really social mood, please share this letter with your FB and Twitter buddies to help spread the word about CHARADE, RENEGADE AND DREAM LOVER…

Hugs and more hugs,
Cindy