January 2013
Hi everyone!
I am so not used to typing 2013 yet. But what I AM getting used to is an opportunity to tell you about a brand new release in the very first month of what promises to be an amazing new year.
KILLING TIME, book 1 of my new One-Eyed Jacks series is available today, January 22nd, in e-book format. You should also be able to find KILLING TIME in mass market paperback format at your favorite paperback retailer starting today!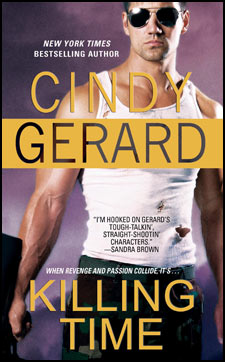 I know I say this about all of my books but I AM SOOOO EXCITED about this book. The hero – Mike Primetime Brown – first showed up 2 books ago in With No Remorse and again in Last Man Standing. I knew the first moment I met this guy that he had to have his own book. And whoa. He did not disappoint. Here's a little excerpt to give you an idea. The advance reviews have been fantastic (I'm so happy to report!!) so I thought I'd share a few of them with you here.
"The story (KILLING TIME) was excellent! It gripped me from the beginning…it was SO interesting to read! Just brilliant!...One of the best heroines ever!…So she alone deserves 5 stars!" Good Reads – Blacky's reviews
"This is the kind of read (KILLING TIME) that makes you ache for more. Cindy Gerard is a master of creating intense emotion - the sexual tension, the high suspense, the desperation, the relief and the joy. I am waiting with baited breath for the next books in the series. Just in case it is not clear how much I adored this book, run, don't walk to get this book!" Sunny ~ LoveAffair with an e-reader
"Best-seller Gerard spins off a new series, The One-Eyed Jacks, featuring survivors of a mission gone horribly wrong. Gerard's name has become synonymous with high stakes and high action adventures that don't skimp on either the romance or the thrills. A Gerard novel is always worth the time and the money invested and this one is no exception." 4 ½ Top Pick RT Book Reviews
"A sizzling, sexy, heart-thumping, action-packed, knuckle-biting story from one of the best writers of romantic suspense. It's hard not to fall in love with her characters because they're perfect as much as they are flawed. We cheer for them, we cry for them, and for a short period of time, they're all ours to enjoy." Michelle ~ MsRomanticReads
"KILLING TIME is highly recommended. If you like Cindy Gerard's work, you are going to love this one … high action, romance, and a brand new Special Ops team to love -- the One Eyed Jacks. … a winner." – FRESH FICTION
I'll be eager to hear what you all think of it!

January brings another bonus too. LEAVE NO TRACE, a Black Ops., Inc. novella, previously published in the anthology DEADLY PROMISES, is now available as an e-read for a whopping $1.99. I just LOVE that kind of bargain.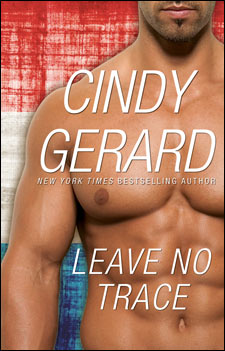 To keep up with all my projects visit my webpage and my FaceBook and if you haven't already, LIKE me. I'm a very needy person. If you're in a really social mood, please share this letter with your FB and Twitter buddies to help spread the word about KILLING TIME!

Here's to a happy and healthy and prosperous new year for all of you!
Hugs and more hugs, Cindy