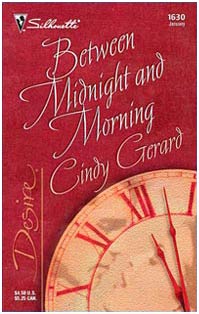 BETWEEN MIDNIGHT AND MORNING
Silhouette Desire
January 2005

Scorching Summer Nights ...
A tall, cool cowboy with a heartbreaker smile, J.T. Tyler had a line of women swooning in his wake. Then he met Alison Samuels, the town's new veterinarian, and found himself face-to-face with a challenge he couldn't ignore. J.T. wasn't interested in relinquishing his bachelor status, but he was definitely interested in learning what the new doc was like between midnight and morning.
Alison had moved to middle-of-nowhere Montana to start a new life - not start a fiery affair with a hunky young rancher. But she couldn't deny J.T.'s persistence ... or fever-induced powers of persuasion. After a few passionate nights wrapped in his muscular arms, suddenly Alison wondered if their sizzling relationship could survive the hours after dawn...
REVIEWS
Cindy Gerard's BETWEEN MIDNIGHT AND MORNING is a pleasure to read from beginning to end. ...filled with humor and tenderness, intriguing characters and a rich story.

--4 1/2 Top Pick - Romantic Times

Cindy Gerard has penned a poignant, emotional tale ... well written and engaging ... nicely paced. The love scenes border on hot, and Iím sure readers will not look at cookies quite the same after their use by J.T. and Alison in one scene. ... an emotional and passionate tale...(readers) should not miss ... BETWEEN MIDNIGHT AND MORNING.

-- Patti Fischer
Romance Reviews Today